New Year 2021 is around the corner It is time to give a fresh start and welcome the coming year with high hopes. New Year's eve should be nothing less than perfect. After all, it is all about creating memories with your loved ones.
Everyone has different plans for New Year's Eve. Of course, no two individuals are same. Some people like to welcome the year with their family. Some prefer to celebrate it alone. People celebrate their special evening in different ways like:
Night parties: Going to night parties is a very popular choice among youngsters. Many people in our groups host night parties on New Year eve. You can take your family or friends along, welcome New Year 2021 with all fun, and frolic. The beautiful fireworks, mouth –watering food and amazing music will make your evening.
Clubbing: If your town has some of the most happening clubs, then it is not a bad idea at all to celebrate the evening there. For this, you have to make a research on internet or social media handles about the parties hosted by clubs that evening. You can take your perfect partner along and welcome the year with full bang. Many clubs organize themed parties. This can be fun too.
Stay home and hang out: If you are not party person, then there are numerous ideas on how you can celebrate New Year at home. Snuggle up in the blanket, in your favourite PJ's and your best friends. Order your favourite food and watch your best movie on Netflix with a wine glass. This is a perfect way to celebrate the evening without spending a huge amount on parties and outfits.
Movies: It is always an exciting option to watch latest releases on New Year's Eve. You can spend your quality time in a good theatre watching movie before the final countdown. A good movie and a bucket full of cheese popcorns is a heavenly combination.
Enjoy snowfall: Since it is winters, many people love to plan a trip to their favourite hill station to enjoy snowfall. This is a perfect way to celebrate New Year's Eve. Snowfall brings the excitement of winter adventures. Every year many people specially visit hill stations to celebrate Christmas and New Year playing with snow and reviving their inner child. Winters are the best time to travel. You can spend an amazing New Year 2021 eve with your loved ones playing snow sports like skiing, snow fight and snow skating.
---
New Year Celebration 2021
Which snowfall places can you choose to celebrate New Year?
Snowfall is the best time for year. If you love travelling then celebrating in snow clad mountains can be a great idea. Our country, India is blessed with so many beautiful places that turn into a fairyland during winters. The beauty cannot be expressed in words.
There are some mind-blowing hill stations and towns in Himachal Pradesh, Uttarakhand and Kashmir where you can catch snow in all its glory. Before choosing a snow fall place for celebrating New Year keep following things in mind.
The roads of the place should not be blocked by snowfall.
Accommodation should be easily available as it is peak time of the year.
The weather conditions should not be extremely harsh.
Mode of transport should be easily available at the place.
All necessities should be available. At times, some places suffer from water shortage due to overcrowding.
Snowfall places to celebrate New Year 2021
Indians are known for welcoming New Year in many different ways. If you are looking for a snowfall place for celebration, deciding on one place is going to be very tough. Our country has so many vibrant hill stations and towns nestled in lap of beautiful Mother Nature. The beautiful White Mountains will give you a New Year celebration just in a way you want it.
Some of the best places for New Year celebration in snowfall include Auli, Manali , Sonmarg ,Ooty, Gulmarg, Lahaul, Spiti, Shimla , Munsiyari, Ladakh, etc. Let us have a look on some of these places to satisfy the snow lover in you.
Make this New Year 2021 enjoyable on these hill stations
There are many hill stations that you can visit this New Year. Everyone deserves a snow trip at least once in a lifetime. So if this new year, you are planning for a snowfall fight, here is a list of places you must consider visiting.
Manali Winter Festival
Manali: Manali is a beautiful hill station in Himachal Pradesh. Splendid Himalayas and lush green valley's surround it. People, who visit Manali, plan a trip to Rohtang Pass too. Manali coupled with Rohtang pass is an ideal choice for perfect snowy New Year celebration. If you also want to enjoy adventure sports, then Solang Valley is a great option. You can enjoy many activities here like skiing, mountaineering and trekking. With cab booking, you can easily reach Manali through road. Here is a list of things you can do in Manali for a perfect welcome to New Year.

Manali winter festival: The winter festival in Manali dates back to 1977. It is mainly famous for skiing completion that is held every year. Along with skiing completion, the festival highlights many cultural events depicting the lifestyle of people living in Kullu and Manali. It includes beautiful dances, delicious food and much more.
Manali winter festival inaugurates with a carnival parade. The parade is held at Mall road, Manali. In the carnival parade, you can see all the teams participating in various sports. The parade incorporates competitive spirit and traditional outlook. It is a wonderful idea to celebrate New Year watching and enjoying various snow sports. Along with it, you can witness amazing traditions of Kullu and Manali. It is a unique experience in itself. Here is a list of events held in winter Carnival. In case you are talented enough, you can consider participating.

Voice of Manali
Miss winter Queen
Fashion show
Manali's Got Talent
Folk dance competition
Adventure activities: Along with adventure sports like skiing, snow fighting and snow skating on Rohtang and Solang Valley you can also add adventure to your New Year celebrations by a trekking trip to beautiful snow covered Himalayas.

Chandrakhani pass trek: It is a very easy trek to Parvathi Valley situated at a height of 3600 meters. You can witness natural beauty of snow-covered Himalayas here. Imagine a hot coffee and snow all around. Having goose bumps already!

Deo tibba trek: It is a moderate trek. One does not face many difficulties. On the trek, you will witness stunning landscapes and spectacular snow-covered mountains.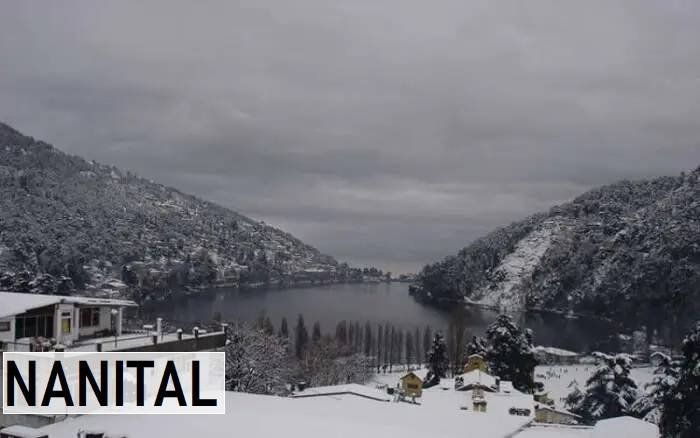 Nainital: Nainital is a place where people of any age group can enjoy. It is a place where temperature conditions are not so harsh. If you are planning a family trip, which includes both kids as well as old people, consider going to Nainital. It is also known as 'Lake District of India". The place is blessed with eye catching scenic beauty that will leave you mesmerized. You can book a bus tickets online in case you have a joint family or you are planning a trip with your friends and their family. Here is a list of places to enjoy snowfall in Nainital.

Snow point: This place can be easily accessed through Ropeway. It is a famous sightseeing and picnic spot. It gives you an opportunity to witness snowy Himalayan peaks like Nanda Devi, Nanda Kot and Trishul. It is just 3km away from main town and can be easily reached via road or a trek.
Tiffin top: It is necessary visit tourist spot in Nainital where you can witness nature at its best. The surroundings look no less than a dream during snowfall. You can get a 360-degree view of beautiful city from here. It can be easily reached via trek or through ponies. There are many eating spots here. You can plan perfect New Year eve here enjoying scenic beauty, snow and hot food.
Naini Lake: Naini Lake is the major tourist attraction in Nainital. During snowfall, visiting this lake is one of the best experiences. The upper layer of the lake starts freezing during winters. This majestic sight is going to give you chills. You can enjoy here by indulging yourself in a boat ride or a snowball game. This one experience will be cherished for lifetime.
Auli: Auli is correctly referred as Winter Wonderland of India. It is no less than a heaven during winters. The snow- capped mountains and meadows look like a dream. Located in Uttrakhand this small town is sure to give you an adrenaline rush. You can be a part of various adventure sports or stay in an igloo shaped tents. This place is the best place for a winter getaway and is sure to give you many memories. Let us have a look at best places in Auli to spend a New Year eve.

Adventure sports: Located in Himalayas. Auli is the best place for adventure lovers. When you go at a height of 2500 meters above sea level, you will witness beautiful mountain peaks like Nanda Devi and Gobhi Parbat. Here you can participate in various competitions like skiing and snow skating.
Joshimath: If you want to celebrate your New Year eve religiously with God, you can consider visiting Joshimath. It is few kilometres away from Auli. It is also known as Valley of Flowers.
Gurso Bugyal trek: It is one of the most exciting things to do in Auli. This place is just 3 km from Auli. The breath taking view of snow-capped peaks like Trishul and Dron will blow your minds away. You will feel as if you are in heaven. This place is the topmost pick by trekkers.
Chenab Lake: It is an artificial lake and one of the most beautiful sight seeing spots in Auli. The serene and calm atmosphere will make your evening. Do not give this place a miss when you visit Auli.
In addition to these things, you can also include camping as one of the options to celebrate New Year in Auli. There are various camping spots here. A night under stars, bonfire, music, food and games will be a perfect New Year's Eve.
Use MakeMyTrip coupons to book beautiful accommodation in Auli.
Sonmarg: Also known as Meadow of Gold this place is not less than a paradise in winters. Every bit of this place is worth seeing. Snow covered mountains, glaciers and frozen lakes look mesmerizing. The beauty of Sonmarg looks exactly like a heaven described in textbooks. Here is a list of things you can do for a perfect New Year celebration in Sonmarg.

White water rafting: To make your vacation adventure filled you can try river rafting in Sonmarg. This expedition starts from Baltal and ends at Sonmarg.
Great lakes trek: Kashmir is famous for its beautiful lakes. You can enjoy some of the most wonderful treks in Kashmir. The Great lakes trek is one of them. The trek begins from Sonmarg where you will witness breath-taking beauty of snow-clad mountains, grasslands, meadows.
Thajiwas glacier: This is necessary visit place for all nature lovers. The place is covered with snow throughout the year. You get to see beauty of frozen lakes and greenery of meadows while trekking up to the glacier.
Zoji-la pass: Try this adventure only if you have a strong heart. This pass is 3500 meters above the sea level and has some breath taking views and landscape. The ride can be a bit dangerous, so travel only with an experienced driver.
Leh, Ladakh: People generally get attracted to Ladakh due to its beauty and culture. This place is entirely for those people who have adventure in their blood. The place is covered with snow throughout the year. One cannot predict the best time to visit Leh as landslides usually block the highways. In case of landslides, you have to book a flight. Many domestic flight offers have huge discounts that will make your trip pocket friendly. If you have plans to spend your New Year vacation in Leh, here is a list of activities you can do to make your New Year most memorable one.

Mountain biking: This is completely for sports lovers. Short trips on bikes with your loved ones will give you time of your life.
Trekking: Ladakh is an excellent place for activities like trekking. You can book a trekking tour to make your vacation fantastic.
Frozen river trek: In January and February, the Zaskar Alake in Ladakh freezes. This frozen river is the main attraction of tourists who visit this place for New Year. The whole place is covered with snow and becomes one of the most exciting and challenging treks of the world.
Dosmoche festival: It is one of the most popular festival in Ladakh that marks the welcome of New Year. Monks from different monasteries celebrate it. It is significant because it marks the victory of good over evil. This is all we want during New Year. Leaving bad things behind and welcoming Good things with open arms.
Ladakh festival: This festival is also held around New Year. It is organised by Jammu and Kashmir Tourism Department. This festival gives you an opportunity to witness culture, folk dances, mask dances, music and food of Ladakh.
You can also visit Pangong Lake, Magnetic Hill. Leh Palace and Zaskar valley when you take this adventurous trip.
Dhanaulti Snowfall
Dhanaulti: Dhanaulti is a popular weekend destination. This is the perfect place to visit for New Year if you are planning a short getaway with your family or friends. Unlike its cousin sister Mussoorie, Dhanaulti is not overcrowded with maddening crowd foe celebrating Christmas and New Year. It is a very quiet and peaceful hill station. Snow-capped Himalayas and pleasant weather will make your New Year eve a memorable one.

Adventure activities: You can undertake various adventure activities in Dhanaulti like Burma Bridge, Mowgli walk and Suspension Bridge.
Camping: When you book a trip to Dhanaulti, it is advisable to opt for camping. The view of hills from camping side is sure to give you chills. It is a perfect way to relax and enjoy in laps of nature. After all New Year's Eve will return only after 365 days. Make most of your weekend spending in peace and solitude on camping sites.
Bonfire party: Bonfire party is the main attraction for tourists who spend their weekend on camps. Bonfire, light music, dance, amazing food and company of your family and friends is an unbeatable combination.
Bonfire New Year Celebration 2021
You can take advantage of Ola coupons to book an easy and reasonable ride to Dhanaulti.
Ooty Snowfall 2021
Ooty: For mountain lovers, Ooty is the best place to visit. Popularly known as Queen of Hills, this hill station is in Tamil Nadu. Situated at an altitude of 2240 meters above the sea level, this popular hill station has a pleasant climate throughout the year. Surrounded by Nilgiri hills from all sides this place is going to best New Year experiences.
You will get to witness magnificent Nilgiri hills, beautiful tea gardens and splendid waterfalls. You can spend hours walking in peaceful beauty and watching old colonial buildings. Here is a list of places to visit in Ooty to make your New Year perfect.
Nilgiri toy train: Remember "chhaiyya chhaiyya" song? Yes, it was filmed in Nilgiri Toy Train. This train covers about 46 kilometres in 5 hours and takes you to a journey of beautiful views of snow-capped Nilgiri Mountains.
Ooty Lake: This stunning lake is surrounded by beautiful trees and is a home to many water birds. This lake is ideal for photography lovers.
Emerald Lake: It is one of the most beautiful picnic spots Ooty. It is situated in upper region of Nilgiri Hills. The breath taking view from here is soul- satisfying.
Clubbing: Ooty is also famous for night parties and clubbing. After sightseeing and other adventure activities, you can book a party in one of the famous clubs. It is a perfect way to welcome New Year.
A trip to any one of these places will surely make your New Year memorable. You can also take advantage of Red Bus coupons to visit any nearby place for New Year celebrations 2021.